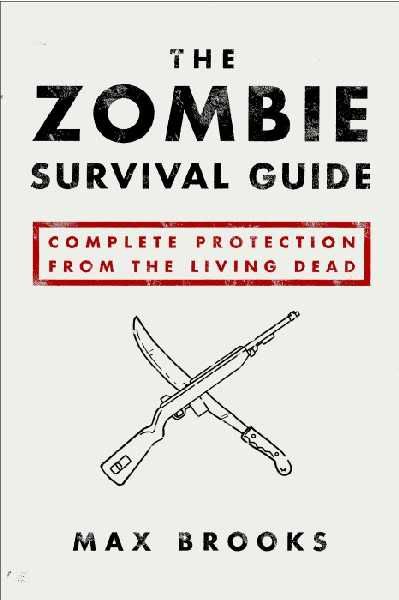 Rating:
☆☆☆☆☆
Release date:
Sept. 16, 2003
Publisher:
Three Rivers Press
Format:
paperback
Source:
Christmas gift
Pages:
254
Series:
--
Challenge:
--
Summary:
The Zombie Survival Guide is your key to survival against the hordes of undead who may be stalking you right now. Fully illustrated and exhaustively comprehensive, this book covers everything you need to know, including how to understand zombie physiology and behavior, the most effective defense tactics and weaponry, ways to outfit your home for a long siege, and how to survive and adapt in any territory or terrain.
Top 10 Lessons for Surviving a Zombie Attack

1. Organize before they rise!
2. They feel no fear, why should you?
3. Use your head: cut off theirs.
4. Blades don't need reloading.
5. Ideal protection = tight clothes, short hair.
6. Get up the staircase, then destroy it.
7. Get out of the car, get onto the bike.
8. Keep moving, keep low, keep quiet, keep alert!
9. No place is safe, only safer.
10. The zombie may be gone, but the threat lives on.

Don't be carefree and foolish with your most precious asset—life. This book is your key to survival against the hordes of undead who may be stalking you right now without your even knowing it. The Zombie Survival Guide offers complete protection through trusted, proven tips for safeguarding yourself and your loved ones against the living dead. It is a book that can save your life.
So, let me ask you a question. Do
you
want to live when the zombie invasion finally occurs?
If your answer is yes, then you should definitely buy this book. It may look like it's a humorous book (that's what I thought when I first bought it), but trust me, it's really not. Well, I mean, there
are
some humorous parts, but the book has a generally serious tone. It reads exactly like a guide, just as the title promises.
As a guide, I feel that this book does a pretty good job. It covers nearly everything that you'll need to know during a zombie apocalypse, such as what weapons are the best to use, the best shelters, and how to survive while on the run or creating a new fort. It even goes into detail of how zombies are created and their basic biology.
The end of the book contains records of "actual zombie attacks", that date back to hundreds of years ago. I thought these were a pretty nice addition to the book, and it definitely made zombies seem more like a reality than an idea.
If you're really into all things zombie, then I suggest that you buy this book. While I may have loved it, however, I feel that maybe people who aren't zombie enthusiasts like I am may get bored of this pretty quickly. If you're not sure it's your thing, maybe rent it out from the library instead.