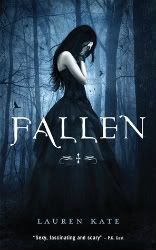 Rating:
☆☆ [2]
Release date:
Dec. 8, 2009
Publisher:
Delacorte Press
Format:
paperback
Source:
bought
Pages:
452
Series:
Fallen (#1)
Challenge:
--
Summary:
There's something achingly familiar about Daniel Grigori.

Mysterious and aloof, he captures Luce Price's attention from the moment she seems him on her first day at Sword & Cross boarding school in Savannah. He's the one bright spot in a place where cell phones are forbidden, the other students are screwups, and security cameras watch every move.

Except Daniel wants nothing to do with Luce-he goes out of his way to make that very clear. But she can't let it go. Drawn to him like a moth to a flame, Luce has to find out what Daniel is so desperate to keep secret...even if it kills her.
I'm still not exactly sure how I feel about this book. I didn't particularly like it nor did I dislike it, and I had a hard time rating it. Overall, it was mostly an okay book, although there were some parts of the book when I wanted to smack the main character, Luce, because she was missing the obvious or she was just acting dumb in general.
I think a big reason why I didn't like
Fallen
was because it was pretty predictable. I felt as if I had read it before. I mean, I didn't even find the main love interest that entertaining. Daniel doesn't really stand out compared to some of the other love interests from other books of the same genre. I felt like the book had a lot of overused cliches.
But despite that, there was still something about the book that made me want to keep reading - even if I wasn't exactly in a rush to finish. Even though this one didn't impress me too much, I'll probably keep reading the series. The ending wasn't all that bad, and it actually left me interested to find out what happens next. Plus, I really want to know what happens to a couple of the side characters. So if I end up seeing the sequel in the store or at the library, I'll probably pick it up. However, if you're interested in starting this series, I suggest that you borrow
Fallen
from the library to find out if you like it first rather than buy it right away.