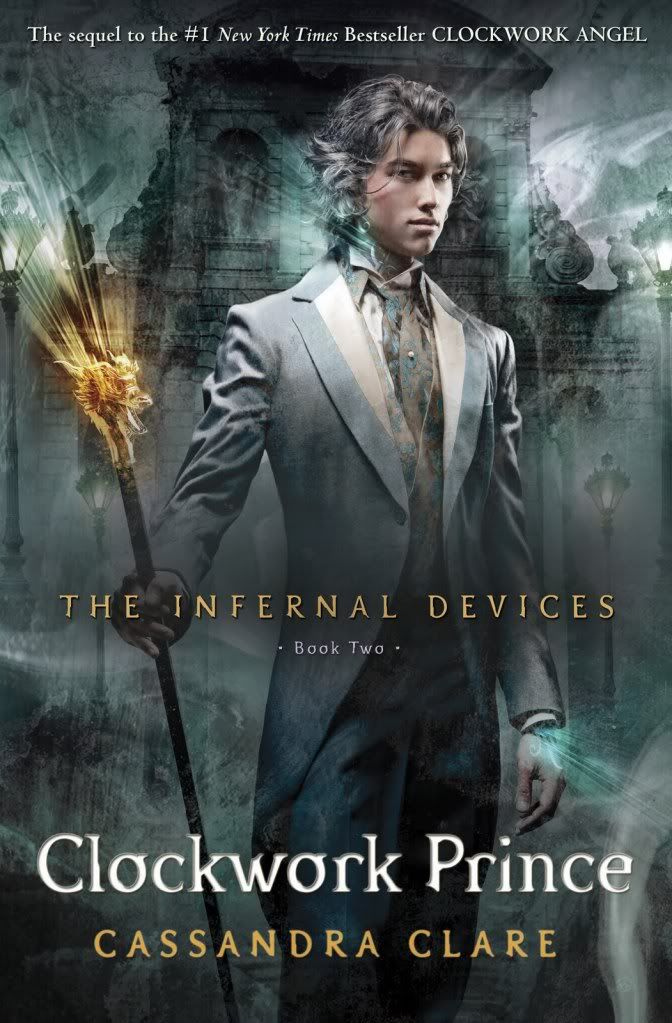 Rating:
☆☆☆☆ [4]
Release date:
Dec. 6, 2011
Publisher:
Margaret K. McElderry Books
Format:
hardcover
Source:
bought
Pages:
498
Series:
The Infernal Devices (#2)
Challenge:
--
Summary:
In the magical underworld of Victorian London, Tessa Gray has at last found safety with the Shadowhunters. But that safety proves fleeting when rogue forces in the Clave plot to see her protector, Charlotte, replaced as head of the Institute. If Charlotte loses her position, Tessa will be out on the street and easy prey for the mysterious Magister, who wants to use Tessa's powers for his own dark ends.

With the help of the handsome, self-destructive Will and the fiercely devoted Jem, Tessa discovers that the Magister's war on the Shadowhunters is deeply personal. He blames them for a long-ago tragedy that shattered his life. To unravel the secrets of the past, the trio journeys from mist-shrouded Yorkshire to a manor house that holds untold horrors, from the slums of London to an enchanted ballroom where Tessa discovers that the truth of her parentage is more sinister than she had imagined. When they encounter a clockwork demon bearing a warning for Will, they realize that the Magister himself knows their every move and that one of their own has betrayed them.

Tessa finds her heart drawn more and more to Jem, though her longing for Will, despite his dark moods, continues to unsettle her. But something is changing in Will; the wall he has built around himself is crumbling. Could finding the Magister free Will from his secrets and give Tessa the answers about who she is and what she was born to do?

As their dangerous search for the Magister and the truth leads the friends into peril, Tessa learns that when love and lies are mixed, they can corrupt even the purest heart.
For all of you Jem lovers out there, I'm sure you'll be happy to know that Clockwork Prince focuses a lot more on him than Clockwork Angel did. I really liked this book, because I felt that certain characters got more character development that they did in the first. The characters in this book aren't just black and white; you get to see a whole different side to them than what you'd expect, especially with Jem and Will. I really loved watching the characters change and grow.
This book really made me feel pretty emotional, which doesn't happen too often. It really takes a lot to get my heart strings pulled, and well, this book did it. I'd feel happy for a character when they triumphed, but then I'd feel horrible a moment later when they had trouble. This book was really a rollercoaster ride of emotion for me.
One thing that I was disappointed in was Will's predicament. If you've read this, then I'm sure you know what I'm talking about. I was kind of letdown with how it was solved way too easily. After waiting nearly a book and a half to even find out what his problem was, I felt that it was gone way too quickly. I would have perhaps liked more of an exciting "end", but I guess not every book is perfect.
Still, I will definitely read
Clockwork Princess
when it comes out. :)