Cover Spotlight is a post that I make sporadically to bring more attention to the beautiful covers that often draw us in. :)
---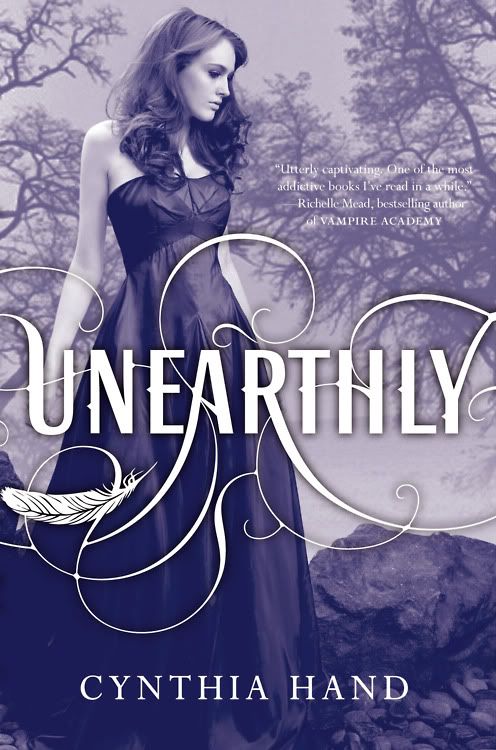 Clara Gardner has recently learned that she's part angel. Having angel blood run through her veins not only makes her smarter, stronger, and faster than humans (a word, she realizes, that no longer applies to her), but it means she has a purpose, something she was put on this earth to do. Figuring out what that is, though, isn't easy.

Her visions of a raging forest fire and an alluring stranger lead her to a new school in a new town. When she meets Christian, who turns out to be the boy of her dreams (literally), everything seems to fall into place—and out of place at the same time. Because there's another guy, Tucker, who appeals to Clara's less angelic side.

As Clara tries to find her way in a world she no longer understands, she encounters unseen dangers and choices she never thought she'd have to make—between honesty and deceit, love and duty, good and evil. When the fire from her vision finally ignites, will Clara be ready to face her destiny?
For months part-angel Clara Gardner trained to face the raging forest fire from her visions and rescue the alluring and mysterious Christian Prescott from the blaze. But nothing could prepare her for the fateful decisions she would be forced to make that day, or the startling revelation that her purpose—the task she was put on earth to accomplish—is not as straightforward as she thought. Now, torn between her increasingly complicated feelings for Christian and her love for her boyfriend, Tucker, Clara struggles to make sense of what she was supposed to do the day of the fire. And, as she is drawn further into the world of part angels and the growing conflict between White Wings and Black Wings, Clara learns of the terrifying new reality that she must face: Someone close to her will die in a matter of months. With her future uncertain, the only thing Clara knows for sure is that the fire was just the beginning.
I haven't yet started this series (although I bought Unearthly just this week!), but I've always admired the covers when I passed them at the bookstore. They're just so shiny and eye-catching! I really love the way the light reflects off of them. Plus, the girl on the cover, along with her dress, is very pretty!
I wish there was a bit more variety between the Unearthly cover and the Hallowed cover as they're nearly the same exact thing beside the color, the position of the girl and her dress. However, I think I still prefer the Unearthly cover due to it's color. I just love the blueish-purpleish shade they picked! I think it's much easier to look at than Hallowed, which is more of a strain on the eyes.
What are your thoughts? Have you seen a cover lately that's attracted your eye?