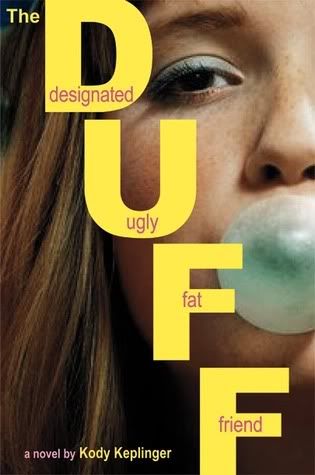 Rating:
☆☆☆☆ [4]
Release date:
Sept. 7, 2012
Publisher:
Little Brown/Poppy
Format:
hardback
Source:
library
Pages:
280
Series: --
Challenge:
--
Summary:
Seventeen-year-old Bianca Piper is cynical and loyal, and she doesn't think she's the prettiest of her friends by a long shot. She's also way too smart to fall for the charms of man-slut and slimy school hottie Wesley Rush. In fact, Bianca hates him. And when he nicknames her "the Duff," she throws her Coke in his face.

But things aren't so great at home right now, and Bianca is desperate for a distraction. She ends up kissing Wesley. Worse, she likes it. Eager for escape, Bianca throws herself into a closeted enemies-with-benefits relationship with him.

Until it all goes horribly awry. It turns out Wesley isn't such a bad listener, and his life is pretty screwed up, too. Suddenly Bianca realizes with absolute horror that she's falling for the guy she thought she hated more than anyone.
I'm sure most of us can say that at one point in time we've felt like we were the DUFF - designated ugly fat friend - of our group of friends. I know I have, and that's probably why I was so attracted to this book in the first place. It sounded like something I could really relate to.
At times, I wasn't sure if I hated Bianca or if I loved her. Honestly, it was really great to see such an aggressive and cynical character, but at the same time it kind of appalled me. Some of the things she did were really outrageous, but I come from a pretty straight and narrow upbringing, so that might have just been me. In the end, though, I really liked her. I loved how she wasn't afraid to do anything or say what was on her mind.
I also really liked the chemistry between Wesley and Bianca. The way they interacted with each other was just so entertaining. It wasn't all just about mushy feelings, in fact, a lot of it was them insulting each other and having a good time.
If you're of the younger audience, then I'd advise that you probably steer clear of this. There's quite a bit of sex in it, and while it's not too graphic, it turned even me off. This book really tackles some mature themes, and Keplinger hits them head on.