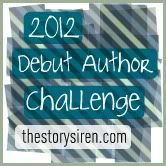 I am happy to say that this year I will be participating in the Debut Author Challenge hosted at
the Story Siren.
This challenge sounds like it's going to be a lot of fun. Basically, the objective is to review a minimum of 12 YA or middle grade author debut books. This list will probably end up changing as the year progresses (I'll also update this as I finish each book), but here's what I have planned so far:
Incarnate by Jodi Meadows
Everneath by Brodi Ashton
Cinder by Marissa Meyer
Tempest by Julie Cross
Elemental by Emily White
Struck by Jennifer Bosworth
Something Strange and Deadly by Susan Dennard
Of Poseidon by Anna Banks
The Sphinx Project by Kate Hawkings
The Glimpse by Claire Merle
Article 5 by Kristen Simmons
Above by Leah Bobet
The Alchemy of Forever by Avery Williams
Slide by Jill Hathaway
Okay, yeah, so that's more than 12 books, but they just sounded soo good. Hopefully I'll be able to get through them all!