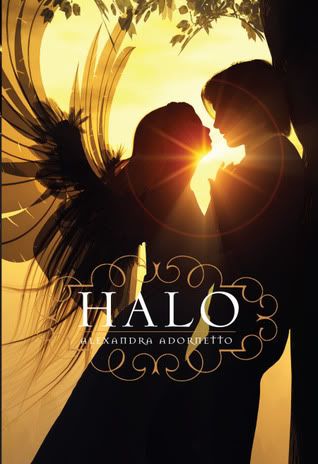 Rating:
☆☆☆ [3]
Release date:
Aug. 31, 2010
Publisher:
Feiwel & Friends
Format:
hardback
Source:
library
Pages:
484
Series:
Halo (#1)
Challenge: --
Summary:
Three angels - Gabriel, the warrior; Ivy, the healer; and Bethany, the youngest and most human - are sent by Heaven to bring good to a world falling under the influence of darkness. They work hard to conceal their luminous glow, superhuman powers, and, most dangerous of all, their wings, all the while avoiding all human attachments.

Then Bethany meets Xavier Woods, and neither of them is able to resist the attraction between them. Gabriel and Ivy do everything in their power to intervene, but the bond between Xavier and Bethany seems too strong.

The angels' mission is urgent, and dark forces are threatening. Will love ruin Bethany or save her?
One thing I liked about
Halo
was that it offered a fresh perspective. It was actually from an angel's perspective, rather than the human's, which is really something I don't see too often. Not to mention that it was about actual
good
angels trying to save the world instead of featuring the whole fallen angel craze I always see.
Bethany, the main character, kind of annoyed me though. There were some points in the book when she acted really stupid. Sure, I understand that it's her first time on earth, and that human life is complicated and all that, but if she's a celestial being sent from Heaven, then you'd think she would act at least a little bit smarter. Also, while Xavier was a pretty good character, he had a few moments when his over-protectiveness of Bethany just reminded me how helpless she could be.
But, overall, I still really enjoyed the plot. It got a little bit slow at times, especially all the lovey-dovey parts, but it was still a fun read. I definitely recommend you to at least borrow this book from the library to see if it's your cup of tea.