Warning: This review could possibly contain spoilers if you haven't read
The Lost Hero
, so please read at your own caution.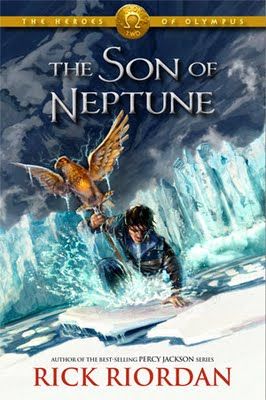 Rating:
★★★★★ [5]
Release date:
Oct. 4, 2011
Publisher:
Hyperion Books
Format:
hardback
Source:
bought
Pages:
513
Series:
Heroes of Olympus (#2)
Challenge:
--
Summary:
Percy is confused. When he awoke from his long sleep, he didn't know much more than his name. His brain fuzz is lingering, even after the wolf Lupa told him he is a demigod and trained him to fight with the pen/sword in his pocket. Somehow Percy manages to make it to a camp for half-bloods, despite the fact that he has to keep killing monsters along the way. But the camp doesn't ring any bells with him. The only thing he can recall from his past is another name: Annabeth.

Hazel is supposed to be dead. When she lived before, she didn't do a very good job of it. Sure, she was an obedient daughter, even when her mother was possessed by greed. But that was the problem - when the Voice took over her mother and commanded Hazel to use her "gift" for an evil purpose, Hazel couldn't say no. Now, because of her mistake, the future of the world is at risk. Hazel wishes she could ride away from it all on the stallion that appears in her dreams.

Frank is a klutz. His grandmother says he is descended from heroes and can be anything he wants to be, but he doesn't see it. He doesn't even know who his father is. He keeps hoping Apollo will claim him, because the only thing he is good at is archery - although not good enough to win camp war games. His bulky physique makes him feel like an ox, especially in front of Hazel, his closest friend at camp. He trusts her completely - enough to share the secret he holds close to his heart.

Beginning at the "other" camp for half-bloods and extending as far as the land beyond the gods, this breathtaking second installment of the Heroes of Olympus series introduces new demigods, revives fearsome monsters, and features other remarkable creatures, all destined to play a part in the Prophesy of Seven.
This book is absolutely amazing. Or maybe that's just me being biased towards the Percy Jackson series in general because I pretty much grew up with it. Either way, I still love, love, love this book.
I liked this one a lot better than
The Lost Hero
, which is the first book in the series, but that's probably because this one had a lot more Percy in it. Anything involving Percy Jackson is amazing. 'Nough said.
However, I still miss the first person writing featured in the original Percy Jackson series. I found the alternating viewpoints in this book to be distracting because there were several times when I wanted to stay in one character's head but was forced into another's. Even though I enjoyed seeing the different characters' thoughts, I still missed the easy flow and continuation of the first series.
Nonetheless, this book had me laughing constantly. Even though Rick Riordan's humor may be slightly cheesy, I still found it hilarious. This is one of the few books that I can honestly say had me laughing out loud.
Anyone who's a fan of Greek mythology should read this book or at least the first series. One of my favorite parts about reading this series is seeing how Riordan mixes mythology with real life. Some of the ways he puts everything together is just so genius. Not to mention that it's really interesting to see the difference between the Roman camp and the Greek camp. But anyway, I'll stop gushing about the book now. :) If you haven't read it yet, go try it out!